Currencycloud Insights is a web-based analytics tool giving you increased visibility across your platform on any payments and conversions made by you or your customers.
You're a fast-growing business wanting to expand and remain successful. You know making data-driven decisions is the smart way to do business but you're struggling to get the visibility you need when it comes to client activity.
You may be able to view basic performance data on how clients are using your payments platform, but you need deeper, richer insights into client behavior to identify trends and look for growth opportunities in your user base.
Currencycloud Insights is the next generation of analytics that will help drive your business forward. Whether you're looking for high-level user-base reports or individual customer performance analysis, you can customize your Insights suite to show you all the data you need to make smarter decisions.
Benefits:
Near real-time reporting – data is updated four times a day allowing you to make reliable decisions fast.
Multiple dashboards – filter data by various dimensions;

View daily, weekly or even monthly trends
Account balances across the platform
Top 10 clients by volume or value
Payment type, currency and status
Conversion value, tenor and status
Profit and losses generated on conversion activity

Reports – export dashboards as PDF or image files from your platform as and when required, saving time and money for your business as well as giving you the option to pass on helpful data to your customers and improve their experience.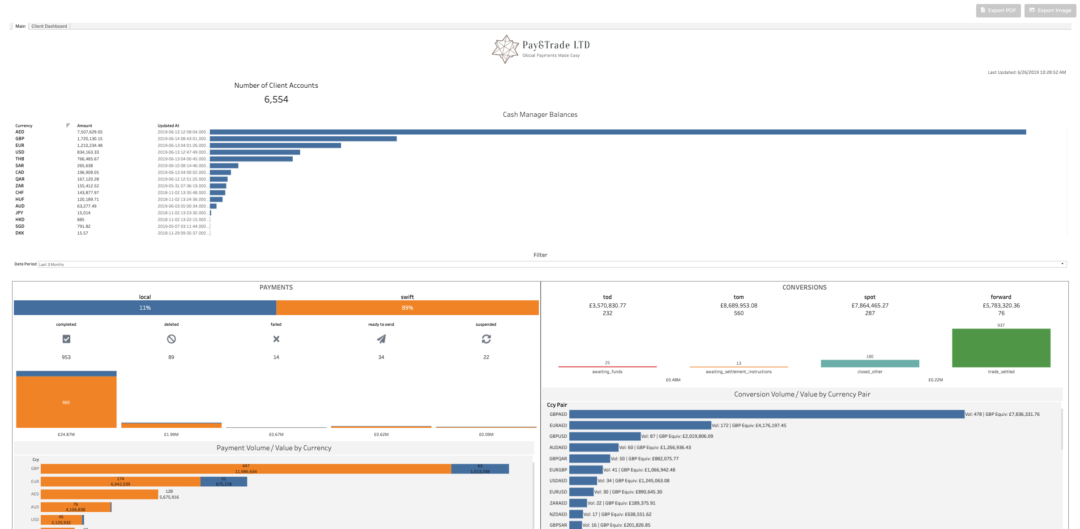 How it works
Once you're set up and activated to use the analytics suite, navigating your way through the dashboards is easy and intuitive. In just a few clicks, you'll quickly be able to visualize your data and apply the search criteria you're looking for.
There are two types of dashboard available:
The main dashboard (house account) which gives you a holistic view of all your platform activity
The customer dashboards which drill down into specific payment and conversion activity per customer (sub-account level).
There are three key analytics areas for both types of dashboards;
Overview and account balances
Payments
Conversions
Within each section, there are more detailed graphs and charts available.
Frequently asked questions
Who can use Currencycloud Insights dashboards?
This functionality is currently enabled for clients using the Currencycloud Direct platform where sub-account functionality is enabled and clients are managing customer wallets via our platform.
How often is the data updated?
We refresh the data four times a day. A timestamp is provided on each of the dashboards so you can clearly see when the data was last updated.
Is there a limit to how much data I can access?
You can search and view data for up to 12 months from the date on which you are performing the search.
How many users can I have?
As many as you want as the cost is based on a per-user basis. This functionality can be enabled/disabled at the user level so that only relevant individuals have access to this information.
If you would like to find out more, please contact your account manager directly or email support@currencycloud.com.