Getting you the right help and support quickly and easily is a top priority for us. So, we have developed a new Support feature in Currencycloud Direct where we can handle your support tickets and share information with you.

You'll find a list of frequently asked questions below.
What can I do via Support?
You can now raise and track all your support tickets in one place, and we can handle your queries much better. Our new Support feature in Currencycloud Direct lets you:
Raise tickets for a wide-range of issues;

View and respond to updates for all tickets across your business;

Add attachments, comments and tag other users from around your business.
Who can access this feature?
By default all house account users can access this feature by clicking on the Support menu item in Direct. If you would like to restrict this permission to certain users, or one of your users can't see the Support link, then please contact your Customer Success Manager.
How can I access Support?
Users with the permission will see two menu items in Direct. 'Get in Touch' launches the widget you can use to raise a support ticket. 'Support' takes you to the Support tickets page when you can view all your tickets.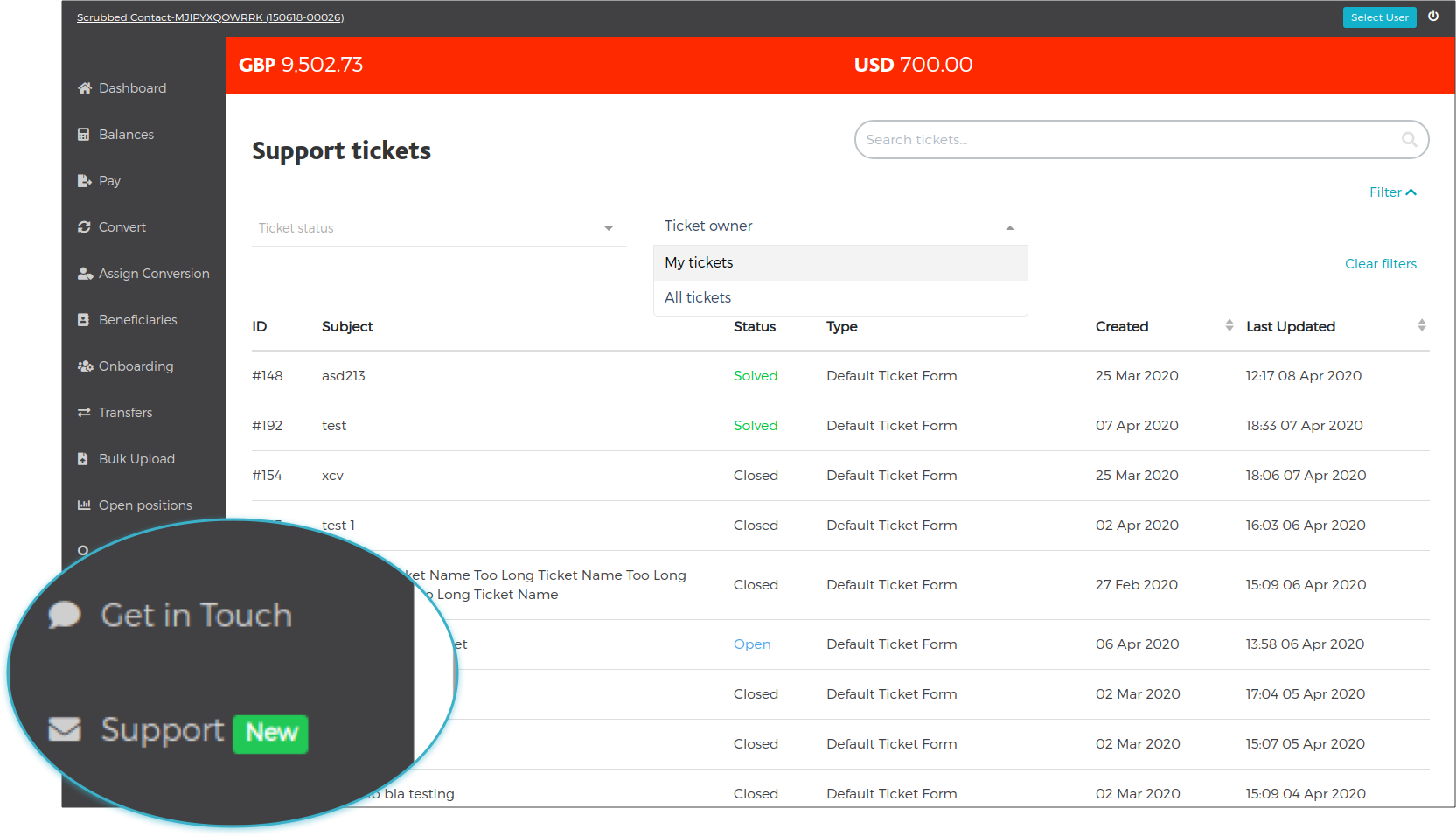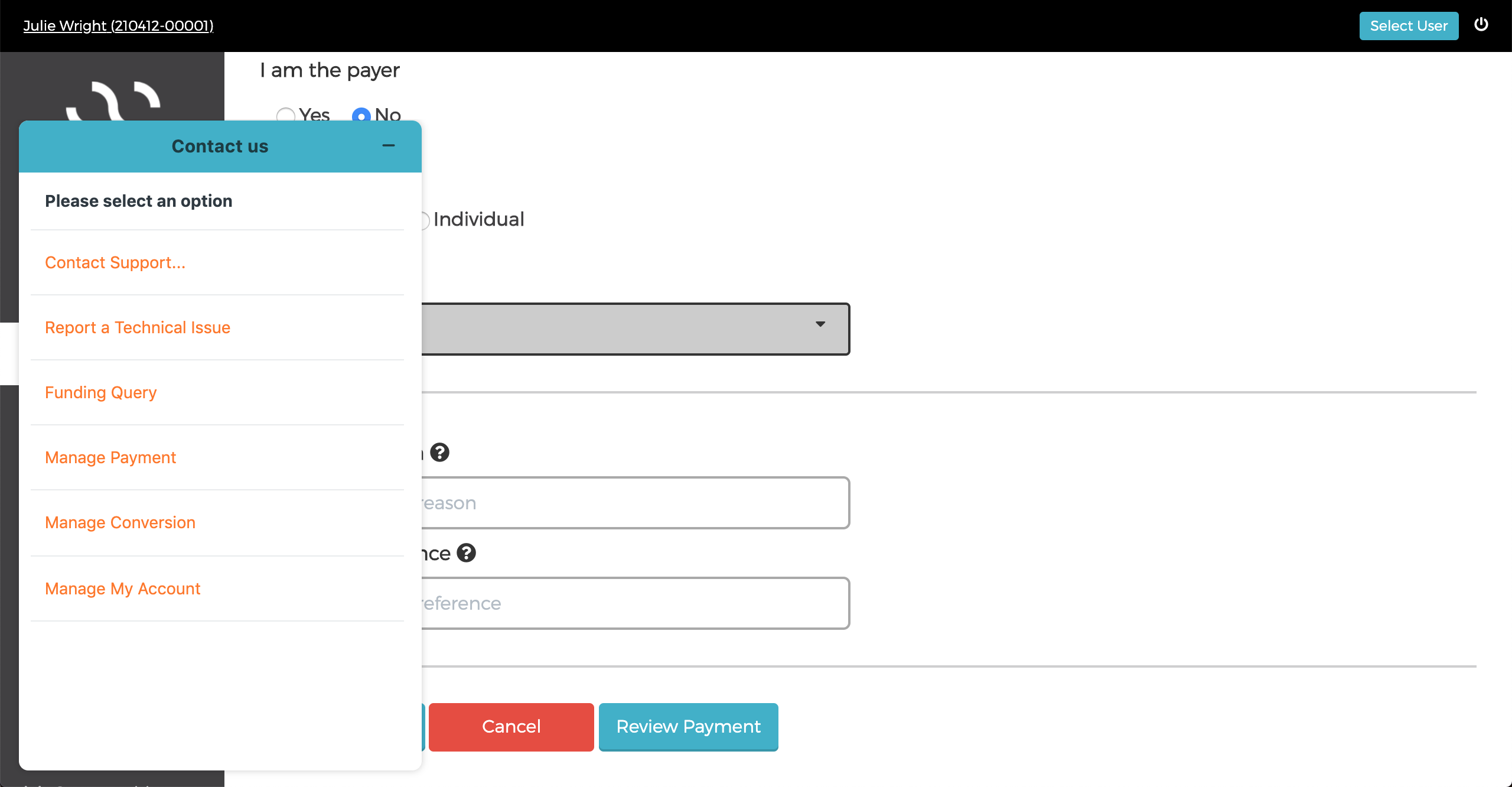 Can I see tickets raised by other users in my business?
Yes. When viewing your list of tickets in Direct you can choose to view only tickets you've raised, or view all tickets raised by users in your business. This gives you better visibility and helps speed up resolution. In the filters section towards the top of the Support tickets page, use the Ticket owners filter to select either 'My tickets' or 'All tickets'.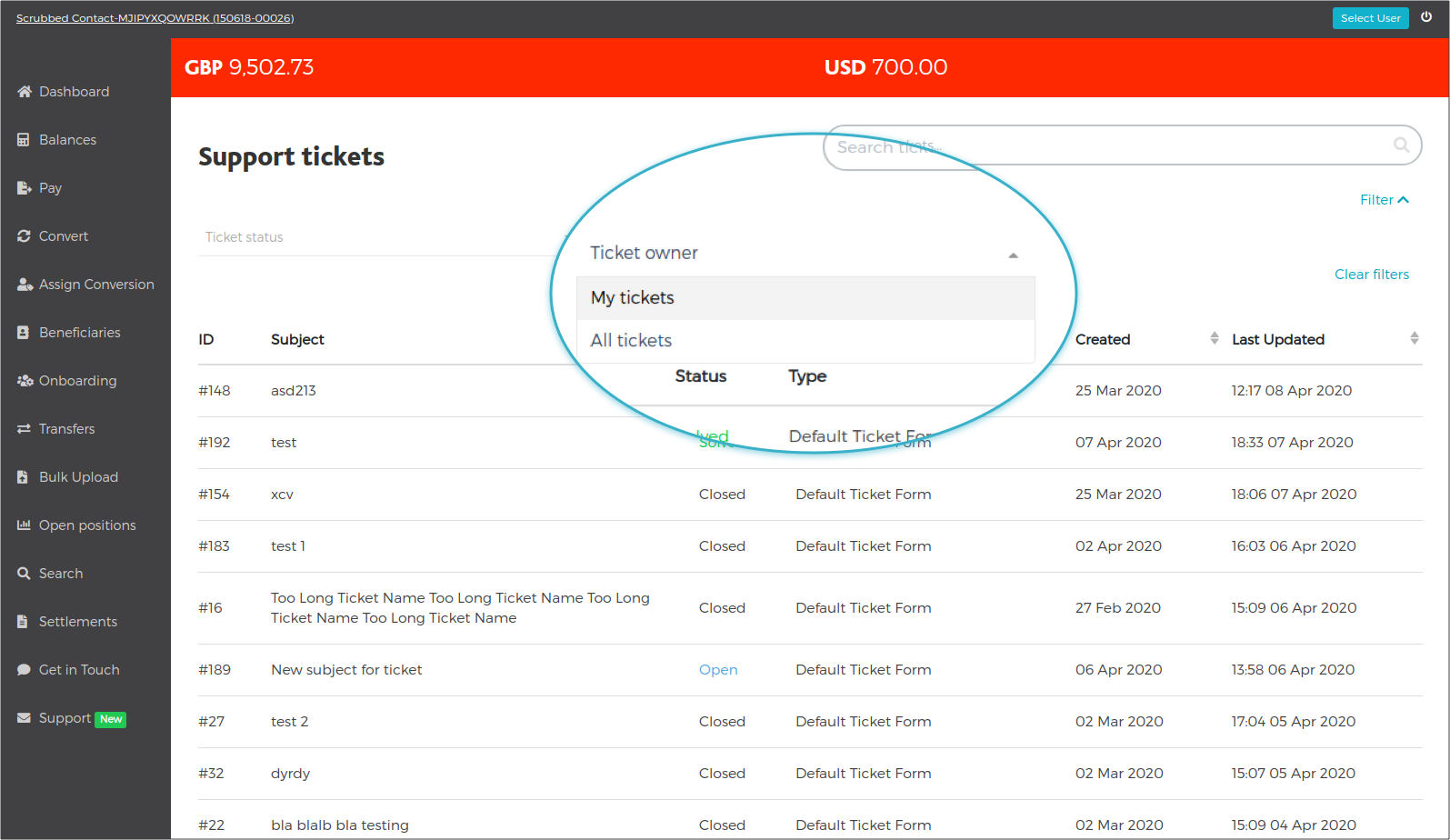 Can I see closed tickets, or only tickets that are open?
You can search for and view any ticket created (new or old, open or closed!) giving you complete visibility. Read more about tickets statuses below.
What do the ticket statuses mean?
Tickets will have one or 4 statuses.You can see the status when viewing your list of tickets on the Support tickets page as well as when viewing a ticket's details.
Open

- You have recently submitted or updated a ticket and it is with our Support team;

Awaiting your response

- Our support team has updated the ticket and is waiting to hear back from you;

Solved

- The ticket has recently been marked as solved, either by you or our support team. You can still comment on and reopen the ticket. This will move the ticket back to "open";

Closed

-

Tickets are closed 7 calendar days after they have been solved. You can no-longer comment on or re-open closed tickets, but can access them for as long as you need.
How can I update an existing ticket?
You can add additional information to a ticket by adding a comment. You can see all comments in the 'Activity' section of the ticket - this is where you'll see updates from our support team. Click 'reply' on the most recent comment to add another. You can add up to 5 attachments to each comment, of which the total combined size cannot exceed 11MB.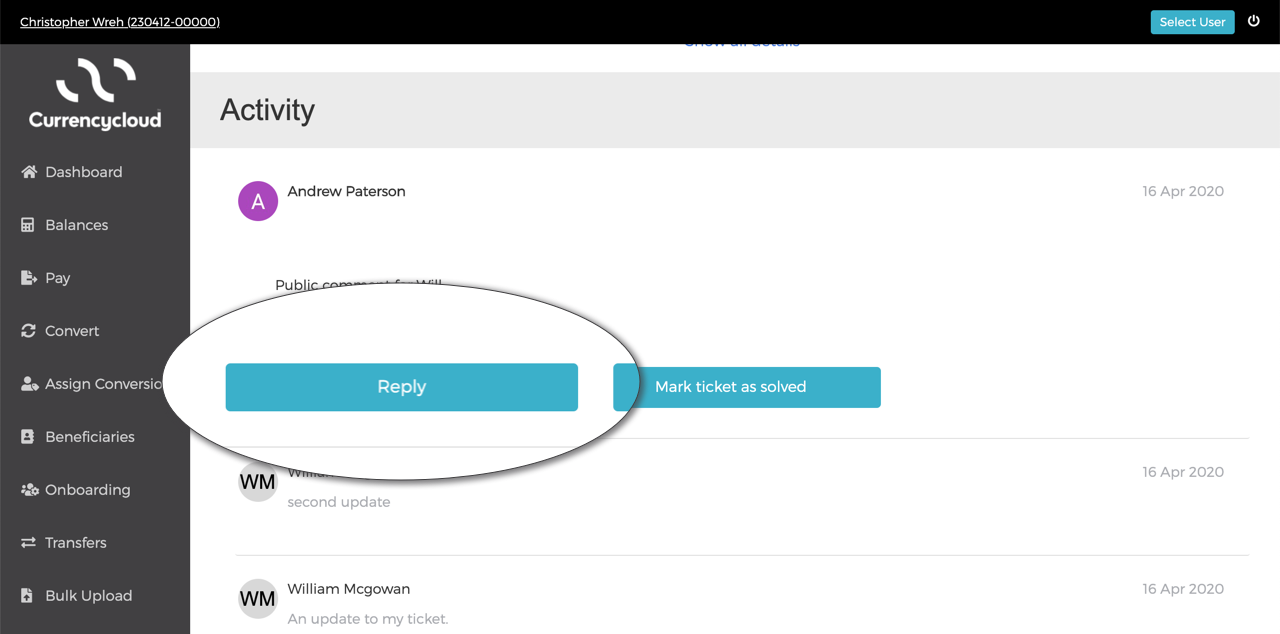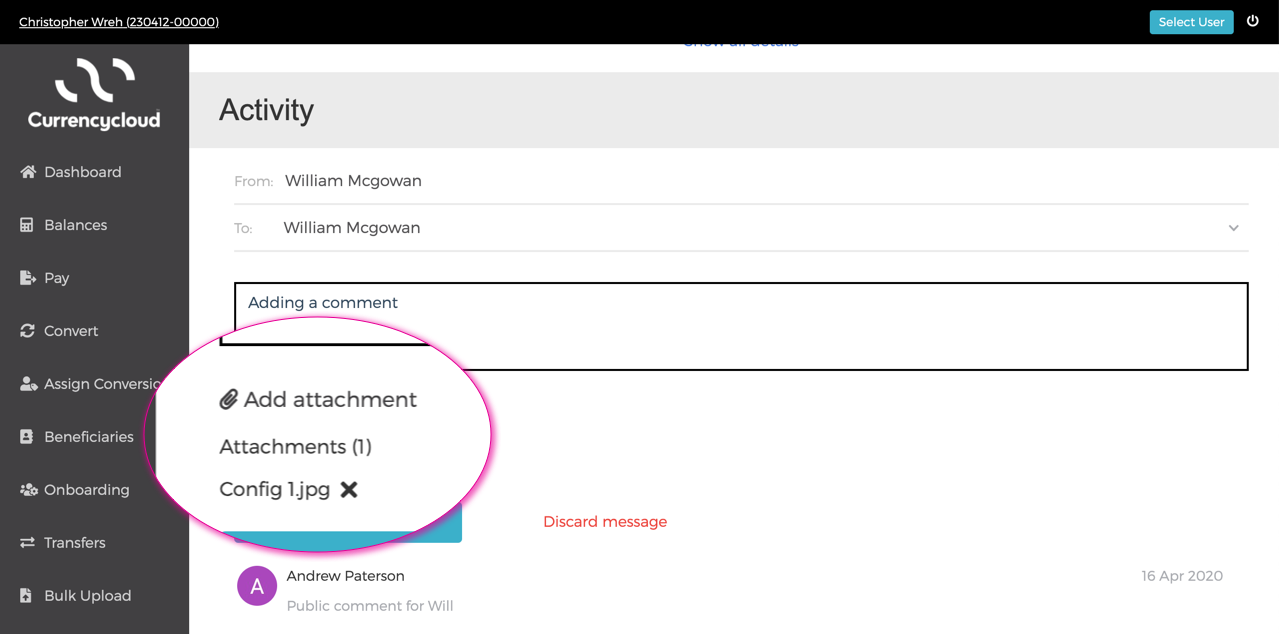 If I add an attachment or a comment to a ticket, who can see this?
To increase visibility and speed up ticket resolution, all tickets will be visible to all other users in your organisation with permission to access Support tickets in Direct. When you add a comment or attachment, this will be visible to those other users, and Currencycloud's support team.
You can also 'cc' additional email addresses into a ticket when adding a comment. These participants will receive email updates on this comment and subsequent ticket updates.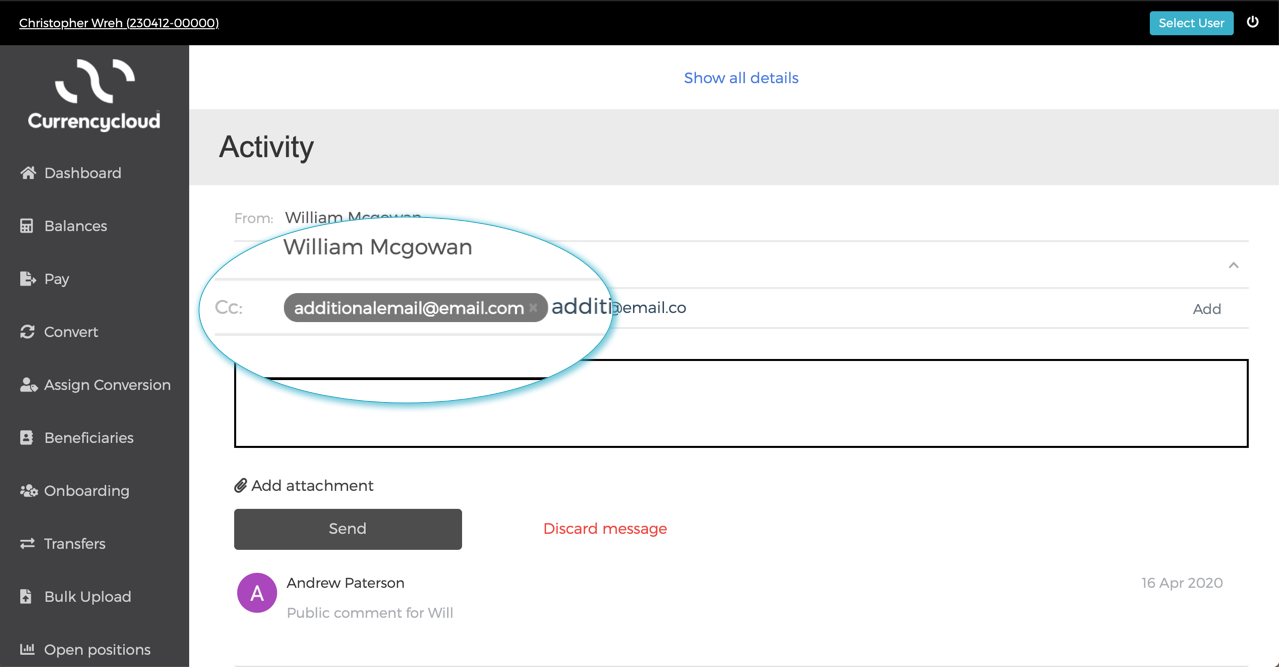 How can I mark a ticket as 'solved'?
Marking a ticket solved lets other users and Currencycloud's team know that an issue is resolved. You can resolve tickets in either an 'Open' or 'Awaiting your response' status by opening the ticket and clicking the 'Mark as solved' link alongside the ticket status.
You can re-open a solved ticket by adding a new comment to it.
How long will it take the 24/7 support team to respond to my ticket?
To ensure we give you the right help at the right time, Currencycloud categorises tasks into 4 priorities, each with their own SLA. We aim to resolve top priority (P1) tickets within 2 hours.
Incidents - unexpected issues that can cause problems with the functionality of our service, products or platform - follow our incident management process. Major incidents are communicated via our Status Page, please subscribe to receive notifications.
Can I still call and email Currencycloud's support team?
Yes. You can reach the team online, email or phone 24/7. However, raising a ticket via Direct means we already have useful information on you and relevant transactions - this makes it quicker to resolve your query, and is more secure.