For clients who want to provide a payment service to their customers but don't have the necessary regulation to do so, this compliance framework allows Currencycloud to provide the regulated payment service whilst you keep ownership of the customer journey.
What is the purpose of the Outsourced KYC model?
The outsourced KYC model allows certain clients to provide their end-clients with a regulated payment service through Currencycloud where they are not regulated to do so themselves. Customers must be onboarded to Currencycloud for the purpose of providing payment services, however the onboarding process can be owned and conducted by the client.
Who is the Outsourced KYC model suitable for?
This model is suitable for clients who are either:
(i) unregulated clients based in the UK or EEA who have robust compliance processes in place as audited and confirmed by Currencycloud.
(ii) clients who are regulated in the UK, EEA, or under certain regulators in the USA but not a payment institution; or
(iii) clients who are a regulated payment institution in the UK, EEA, USA, Jersey, Gibraltar, Isle of Man, Australia, Canada, Hong Kong, India, Israel, Japan, New Zealand, Singapore or Switzerland, wanting to offer payment services to end-clients where they are not regulated.
What jurisdictions are supported by outsourced KYC?

Clients can use Currencycloud to offer payment services to customers located primarily in the UK, EEA and North America. Unregulated clients will need an incorporated entity in the UK to service UK end-clients, and one in the EEA to service EEA end-clients.
How do I become an Outsourced KYC client?
Our compliance department must complete an audit of your compliance processes to confirm that they meet the standards necessary to have access to these models. If you are unregulated, you must also complete an agent registration process with the relevant regulator (in the UK or the Netherlands). This process can take 1-2 months.
What is Currencycloud's relationship to my customer?
We operate strictly B2B2X, and will generally have no direct involvement with your customers. However, customers under the Outsourced KYC model will be Currencycloud's clients for the purposes of us providing a regulated payment service to them. This means that your clients must know that they are being provided with a payment service by Currencycloud, and must read and accept our Terms and Conditions.
Will my customer be onboarded to Currencycloud?
By using the outsourced KYC model, you undertake customer onboarding on Currencycloud's behalf – we will share our expected standards with you. When you create an account for your customer, you are required to confirm that your customer has accepted our Terms and Conditions.
What information do I need to create an account for my customer?
In order to create a sub-account for your customer, you will need to provide us with the following:
For individuals:

account name, address, legal document to verify identity of the account owner, confirmation of their acceptance of Currencycloud's T&Cs.
For corporates:

account name, address, confirmation of their acceptance of Currencycloud's T&Cs.
How do I create and activate an account for my customer?
You are able to create customer accounts via our Create Account API or from the "Onboarding" section within Currencycloud Direct.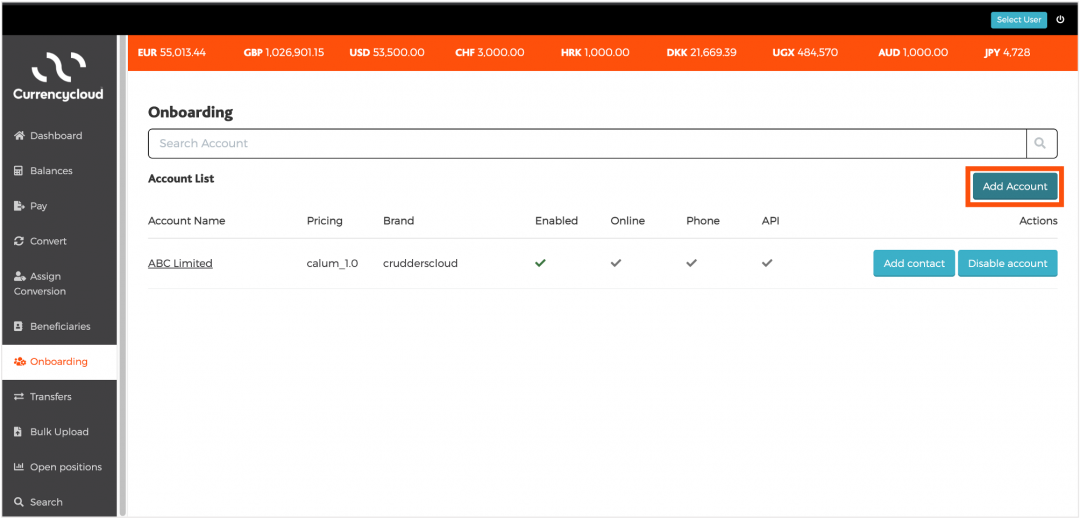 Additional steps required to activate customer accounts in the EEA
For customers based in the EEA, we need to verify their bank account before their account can be fully activated. Once an account in the EEA is first opened, your customer will need to send at least 1p to their new account from a bank account in their name. Once this is done, the account is activated and they will be able to make payments and transfers.
Available Currencies
You can view our list of available currencies here. Please note that there are certain limitations on available currencies when contracting with Currencycloud BV, which are noted at the bottom of that page.
GDPR and Data Protection
You will be conducting onboarding and thus processing personal data on behalf of Currencycloud. We will therefore be joint controllers of end-client personal data for GDPR purposes. GDPR will apply always where EU citizens are involved, irrespective of where you are based. So if you onboard an EU citizen, GDPR will apply. Technically GDPR will apply for EU clients, UK GDPR for UK clients, and PDPA in Singapore.
How does the flow of funds work?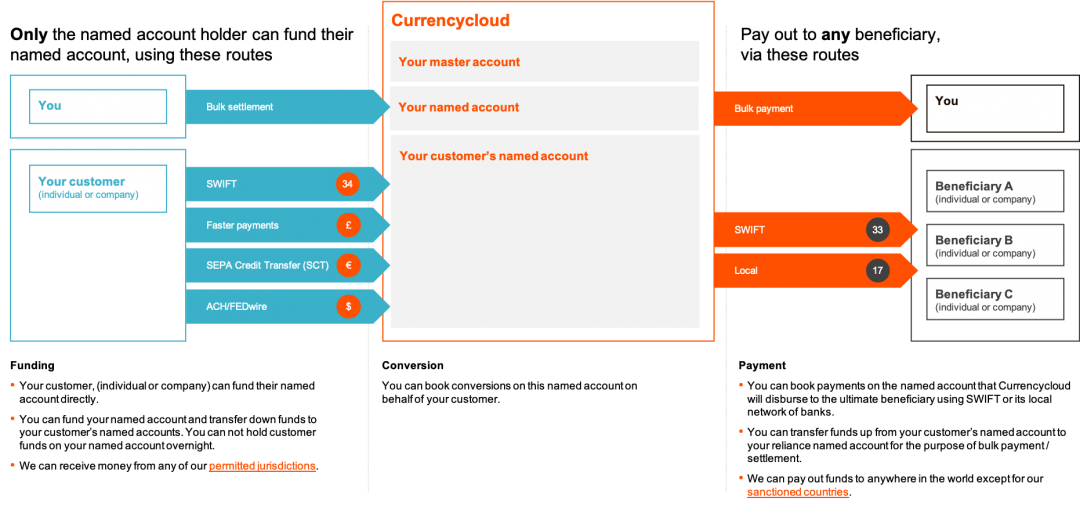 Will there be additional checks?
Currencycloud will conduct telephone check-ins every quarter and an annual audit that will involve sampling KYC records for customers onboarded on our behalf to ensure that our compliance standards are met.