Customer Statements provides you and your customers with an account
summary of your activity. Easily find accurate records for every transaction,
such as trades, transfers, conversions and more, across selected accounts and t
urn this into a Statement.
What are Customer Statements?
Just like any other bank statement, Customer Statements are an essential resource where you and your customers can produce a view of all account activity straight from the Currencycloud Direct platform or our White Label product. Generate a statement for a twelve-month period at the click of a button, whenever you need.
How does it work?
Navigate to the 'Reports' section on the left hand menu of Currencycloud Direct platform or our White-Label product

Click on the 'Customer Statements' tab

Select the account you would like to generate a statement for, the currency or currencies and the to and from dates

Select 'Download PDF' to generate a Currencycloud branded statement based on the filters you've selected

Click 'Reset filters' to start the process again and generate another statement

Download statements you've previously created for faster access.
Can I export the report data?
Yes! You'll be able to generate a PDF copy of your statement - either for you, or for your customers.
How far back can I look in the report?
You can see data from up to a year ago.
Can I add a logo to the statement?
We're working on being able to update this with your own company logo, so watch this space!
What can I filter on?
To/from date

Account name

Currency i.e. multi-currency or single currency statement
You can also reset these filters to generate a new statement, based on your selected criteria.
How do I access it?
Simply reach out to your CSM, who will be able to set it up for you and your customers. This shouldn't take any longer than a few minutes! Once you're set up, you can access it via the Currencycloud platform, under the new 'Reports' section on the left hand menu of Currencycloud Direct or our White-Label product. Alternatively, simply visit https://direct.currencycloud.com/myreports.
Is the report also available via the API?
Not just yet - for now, it's only accessible via the Currencycloud Direct platform. But we'll let you know as soon as it's available via the API as well.
What does it look like?
Here's a sneak peek of what you'll find on Currencycloud Direct and of the PDF Statement: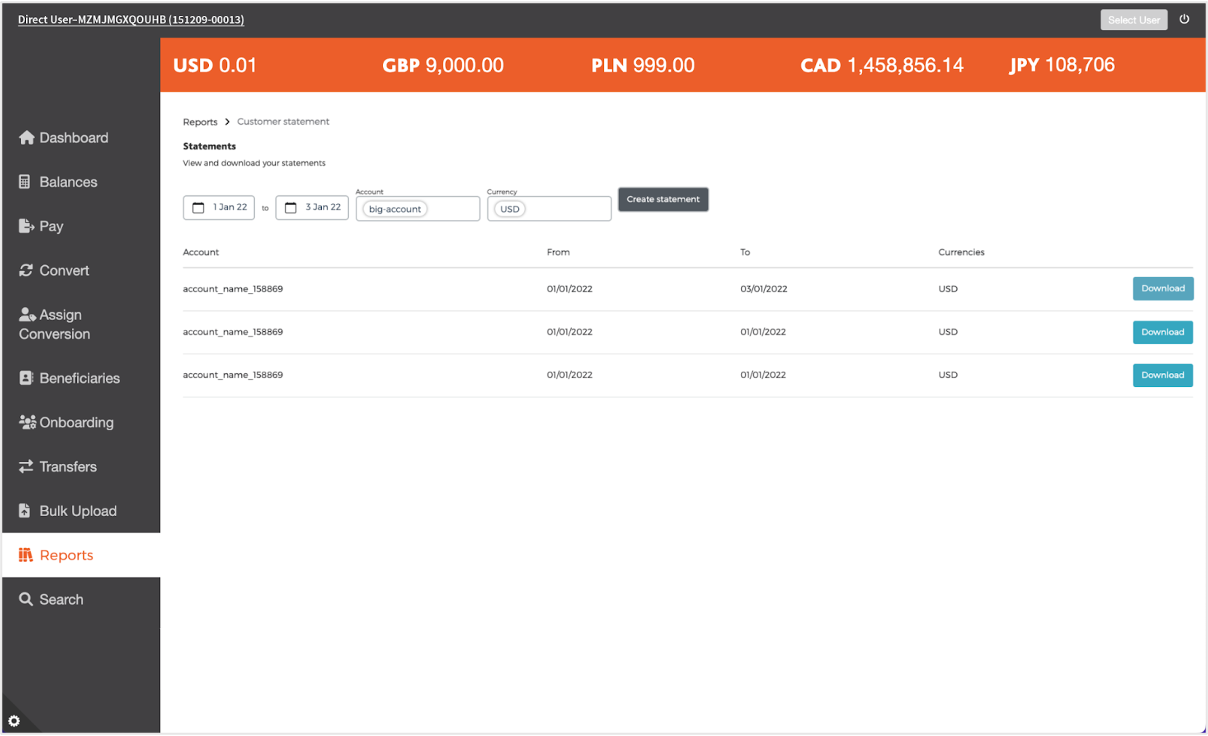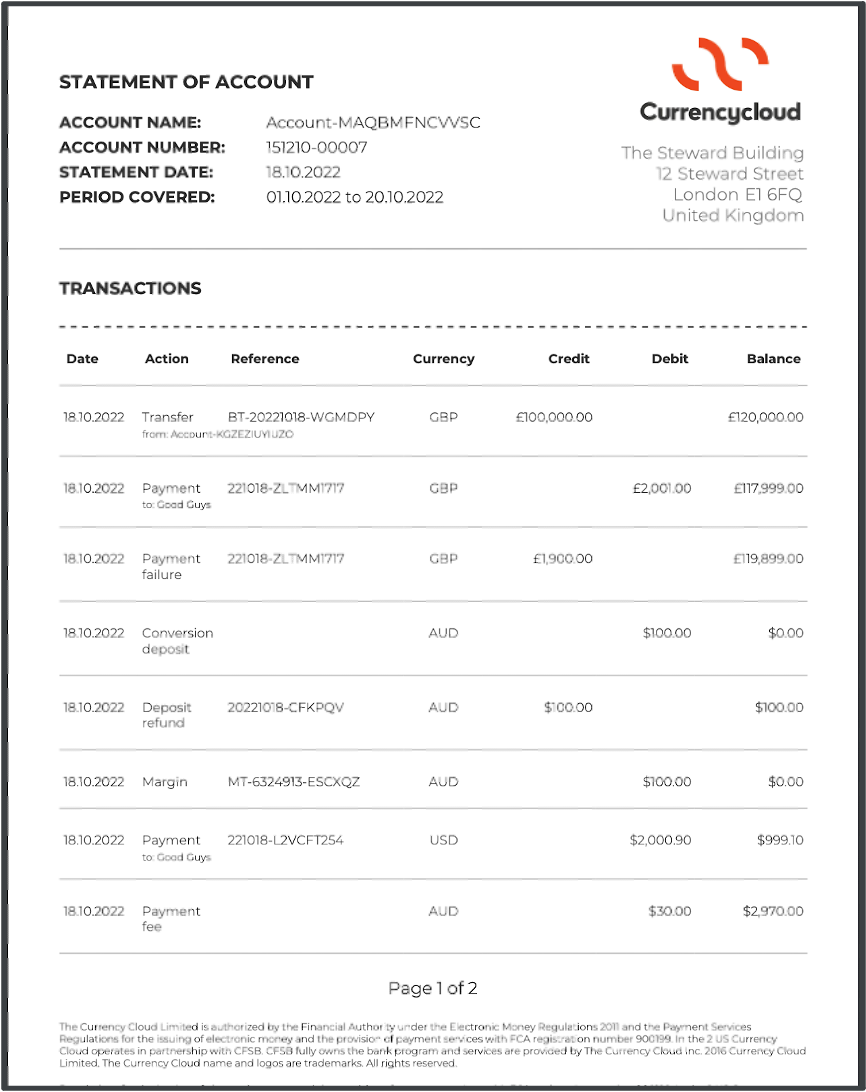 What is happening to the Cash Manager Transaction Report?
We're replacing our Cash Manager Transaction report with the Customer Statements and Transactions Reporting tools. These improved tools have all the same data and functionality you can get from the Cash Manager Transaction Report (and more!) so you won't be losing access to any information.
Cash Manager Transaction Report will no longer be available from 31 July.